So I don't go to church every week like I know I should. I really love my church but my desire to sleep in seems to be greater. I saw a DIY Let Go and Let God sign on Pinterest and knew I had to make one for myself. It makes me feel closer to God having this in my home.
I do belong to a bible study group made up of some really wonderful ladies. We have become good friends over the years and do lots together, even outside of bible study.
What I Did
I created two files to make this project. You could easily do it in one file (not sure why I didn't!). If you want your text to look like mine, you can download the "Amarillo" font from Dafont.com for the "Let Go"/"Let God" part. Once downloaded it will need to be uploaded to your computer. I used the "Cricut Sans" font for "and". The branch is in Cricut Design Space – #M849ACDD.
You can purchase the same 10″ wooden disks from Amazon. Here's the link.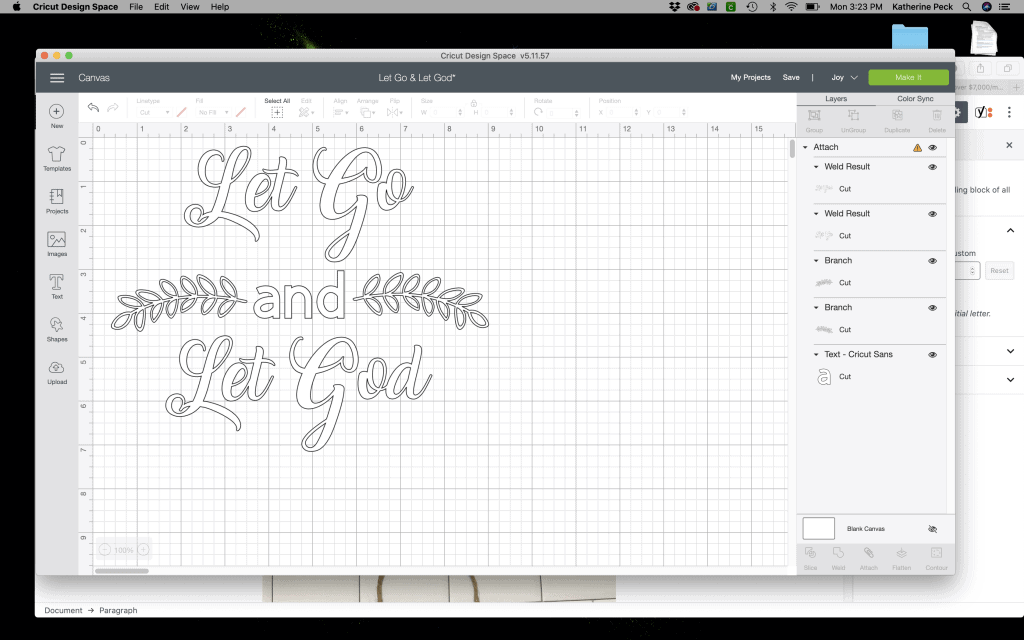 These flowers and the leaves are all in Design Space. The number for the orange flower is #M402D0, the pink flower is #M90BF69, the yellow flower is #M4687B and the leaf is #MD6F435.
I cut out two sets of three of the orange flower, one set of three of the pink flower, two sets of three of the yellow flower, and four of the leaves, two for each side.
I hope you love this DIY Let Go and Let God sign and will make one for yourself.
Until next time.
Kathy
P.S. You might also like this DIY Welcome Sign or this Hello Table Sign!