Have you ever made a shaker card before? You can make this Birthday shaker card with your Cricut. These are my most favorite cards to make. I absolutely love sequins (there are so many pretty colors). Any time I can make something with them, I'm all in. I got my inspiration for this card on Pinterest from Lorrie Nunnemaker.
This card was made with the Cricut Maker. All of the elements came from Design Space.
Create a New Project
Go to "Images" and search for a Happy Birthday sentiment that you like. This image is from the Once Upon a Time Princess Image Set.
This ice cream cone image is also from the Once Upon a Time Princess Image Set. It had a little face on it, but I took that out.
Next go to "Shapes" and insert a square and duplicate it two more times. Change their color to white to make it easier to see what you are doing.
Resize one of the squares to 4.25″W x 5.5″ H. You will need to unlock the square to change to these dimensions. Once resized lock the rectangle.
Resize the next square to 3.25″W x 4.5″H. You will need to unlock, resize and lock back again.
Resize the last square to 2.75″W x 4.0″H. Unlocking and re-locking.
Place the 2.75″ x 4.0″ rectangle on top of the 3.25″ x 4.5″ rectangle and align vertically and horizontally.
Select and highlight both rectangles and "Slice". Delete both center pieces that will result from the slice.
Now You Have A Frame
Duplicate the 3.25″ x 4.5″ rectangle five times so you have a total of six rectangle frames.
Select the first frame and change the color to gray. You will be using silver glitter cardstock for this layer. This will be the top layer of the shaker frame.
Place the Happy Birthday sentiment inside the frame and resize it to fit.
Move the Happy Birthday Sentiment to the right side of the 4.25″ x 5.5″ card layer. It will be offset. You may need to arrange it to the front of the rectangle. Click "Flatten"
Arrange the gray frame over the top to make sure the Happy Birthday sentiment is lined up the way you want it. At this point, resize the ice cream cone so it fits on the bottom right corner of the frame and flatten it.
Insert another Square Shape and resize it to .5″ x 5.5″. Duplicate it. Choose the Fill/Print/Color Pattern to choose a pattern for your two .5″ x 5.5″ strips. If you need help with this, let me know in the comments and I will show you how to do it.
Print and cut your images and rectangles.
Cut a piece of 8.5″ x 11″ cardstock at 4.25″ x 5.5″ for the base. You can do this with a paper trimmer. Next cut a piece of acetate to 3.25″ x 4.5″ for the shaker front panel.
A Few Process Photos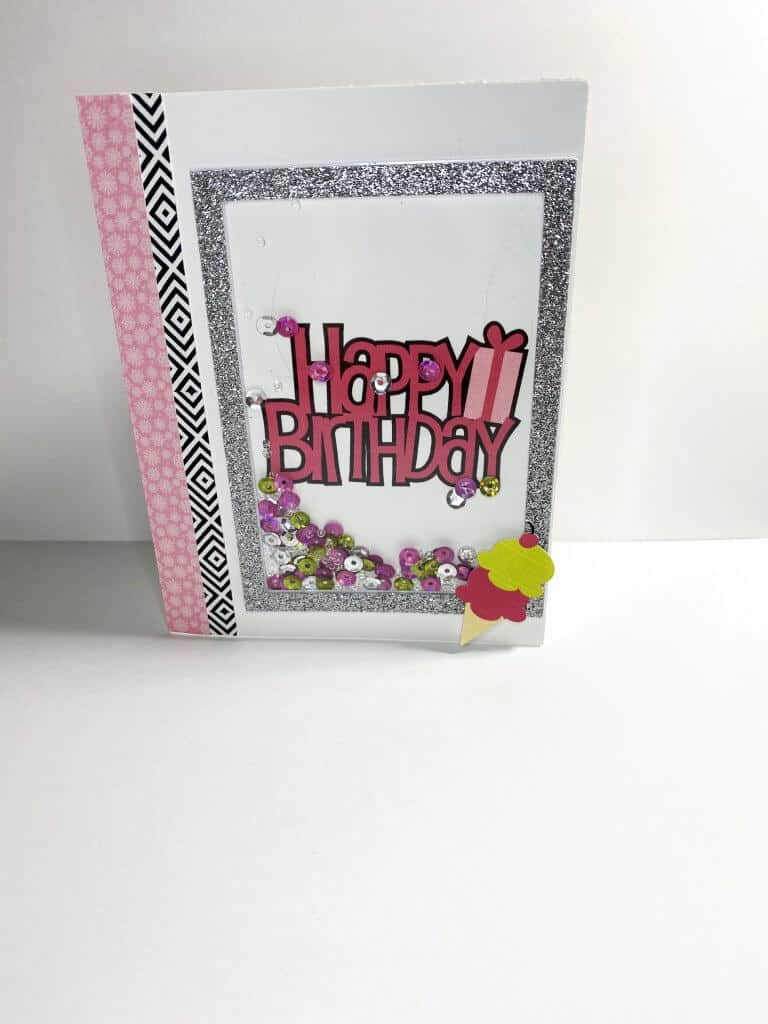 I know this is a long post, but if you decide to make this Birthday Shaker Card With Your Cricut, the possibilities are endless. You can use any sentiment and colors you want. Have fun and let me know in the comments if you make one.
Until next time.
Kathy
P.S. Be sure to sign up for our newsletter on the Home page.
P.S.S. If you are looking for a fun, project to make, check out this Prima Amelia Rose Tag Mini Album