You are going to love making this easy DIY Thanksgiving candy dome for your Thanksgiving table. Make one for each place setting, so everyone has one. Super easy to make and takes no time at all.
This post contains some affiliate links for your convenience (which means if you make a purchase after clicking a link I will earn a small commission but it won't cost you a penny more)! As an Amazon Associate I earn from qualifying purchases. Read my full disclosure policy.
Products Used To Make This Project
Directions
All pieces were cut on the Cricut Maker. Get your pieces cut out and assemble as follows.
Here is an instructional video.
Before placing the dome ornament on top of the dark brown turkey piece, add your candy to it. Put the dark brown piece over the top of the candy dome ornament and flip, so the candy stays inside the dome. I used hard candy to show that these can be safe for people with allergies. You can also use miniature candy.
Place the ornament hanger part to the bottom right so it's not visible. Add the light brown piece so so you can figure out the placement of the dome ornament.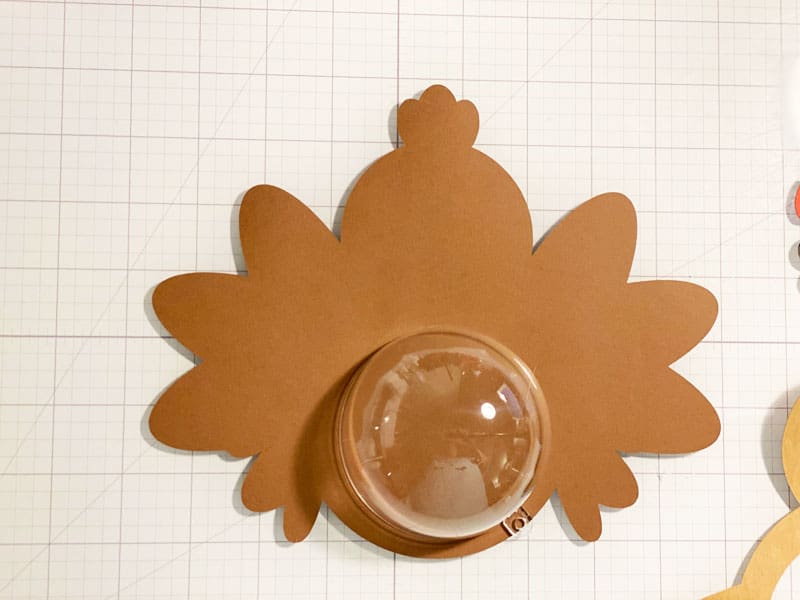 Remove the light brown piece and place the double sided foam tape around the edge of the dome ornament. Do not put double sided foam tape on the plastic piece that sticks out. The double sided foam tape will offset that plastic piece.
Add double sided foam tape to the head and at the very top. Also add the double sided foam tape where the wings will be. (Use the light brown piece as your guide.)
Remove top pieces of the foam tape to expose the stickiness. Place the light brown piece on top of the foam tape and press down for good adhesion. Add the larger red piece to the top of the head. Then put the nose and the black eyes on. The next thing you will do is add the waddle just above the turkey's nose.
Last you will put on the googly eyes using liquid adhesive and the rhinestone picker tool.
You are done!!!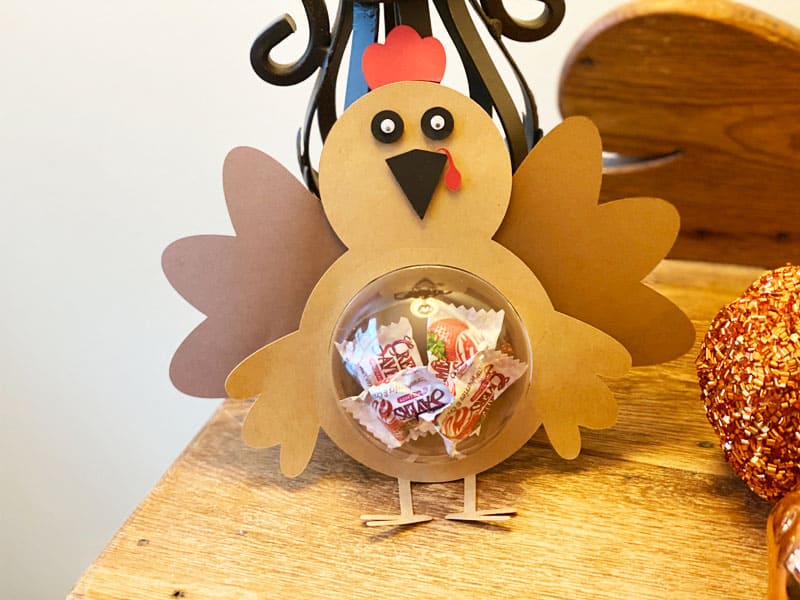 I hope you make some of these. easy diy Thanksgiving candy domes for your Thanksgiving table. Have a wonderful Thanksgiving.
Until next time.
Kathy
You might also like this Thanksgiving Turkey Place Card
You can get my free template for this Thanksgiving turkey name place card, available in my Free Resource Library (get the password by filling out the form below).